Sometimes the best part about Halloween for kids and their parents is getting to build their own costume from scratch. Not only can making a homemade Halloween costume be fun and save a little money, you can avoid going to a big-box Halloween store with costumes that don't always fit or include everything you want.
Homemade military costumes a great way to show off your crafty side and support the military community at the same time. But the task can be a little daunting if you're not sure where to start. You can really custom-make any type of military costume you want, starting with these crafty must-haves.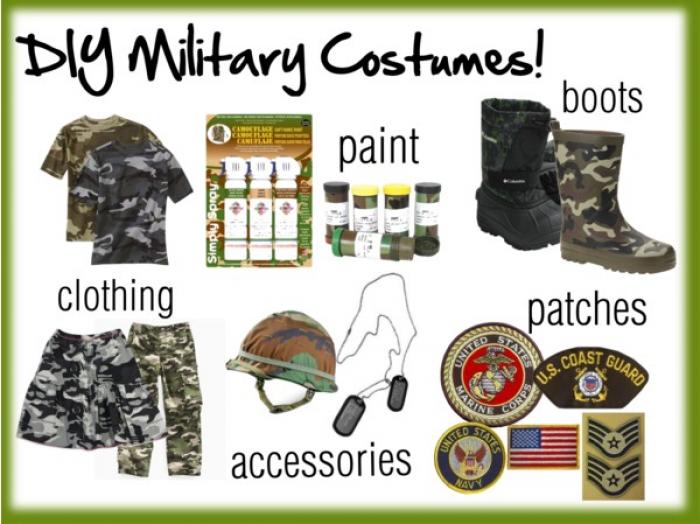 Camouflage Clothing
The first step in creating a military costume from scratch is simple camouflage clothing. If you don't already have camouflage shirts, pants, skirts or jackets, they're fairly easy to pick up at almost any department store or military surplus store. These will serve as a great base to build the rest of the costume around. You may decide to opt for a branch shirt as opposed to camouflage for a slightly different look.
Snow Boots
This one may not make sense at first, but snow boots are a great and practical substitute for combat boots that you may already have around the house. Not only are they less expensive, you can get snow boots on discount this time of year before winter sets in. You'll spend less and get the same look.
Face/Fabric Paint
If you can't find camouflage clothing or want to use older clothes as part of the costume, you may want to look into fabric paint. Face paint is another important must-have if you're looking to go above and beyond a standard costume. Make camouflage shapes with the paint or black lines beneath the eyes.
Dog Tags
Dog tags are a standard part of many big-box military costumes, but when you're making one from scratch it can be a really sentimental addition. If you have an extra set from your service member, have your child wear them on Halloween night. For families experiencing a deployment this Halloween, this is a great way to include the whole family, even if not everyone can be there.
Patches, Bars & Ribbons
The little details are what will really make your homemade military costume stand out from the rest, and sewing on patches, bars and ribbons to shirts and jackets really add a finishing touch. Go for an American flag, branch seal or even a customized name patch and you'll be surprised how realistic you can make your costume with a little thread. If you're not handy with a needle, a lot of patches for sale online come with a Velcro option for easy removal.
The pest part about making your military costume from scratch is that you can pick and choose your favorites from this list of must-haves and your own to create a truly unique costume that everyone will be proud of when you go Trick-or-Treating.